The Kelly Family
Photo Session at Bell Rock
"David, our photos are gorgeous! Thank you so much for capturing such a special trip for our crew. It was a fun, quick, lovely experience. We will cherish these pictures for a long time to come! (And know our kids will be showing these to their kids some day!) We will most certainly tell any and all fam and friends headed your way, to connect with you! Thank you again so very, very much!"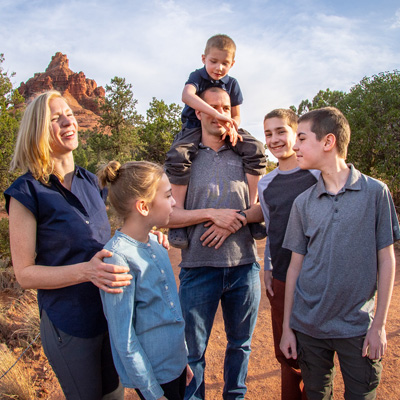 …………
Monica & James
Married at Merry-Go-Round Rock in Sedona, Arizona
"Thank you so much for all of your hard work and dedication to getting us some amazing shots!! We appreciate you so much and will most definitely recommend you highly! Thank you for everything. Best wishes to you!"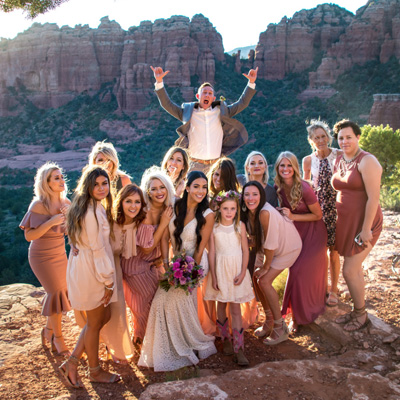 …………
Debby & Timothy
Married at Tlaquepaque in cooperation with Weddings In Sedona
"Hellooooooo David! Thank you. Thank you. Thank you! You've worked magic one more time here.
"I just glanced through our photos before Debby got home and had to stop. I couldn't take it, nor continue alone. They're way too beautiful. I was going to put together a wedding book with an inspired selection and surprise her with it. But now I feel that I have to share them all together … each one is such a treasure. These captured snippets are so amazing. How could I choose alone? I couldn't do it.
"I LOVE what you've done here. I love how you chose the staging, the lighting, how you capture the emotions brilliantly. I love the b/w versions … sometimes even better than the full color ones in some cases. You were wonderful to work with too. Thank you for your kind words, your visibly emotional investment in our experience and your highly visual blessings you've delivered here with your miraculous workmanship on these fabulous, life-time photos.
"God bless you. Godspeed with your business and your good heart always. We wish you a long and wonderful life as well!"
………….
Amy & Brian
Married at Diamondback Gulch in Sedona in cooperation with Pink Jeep Tours and Reverend Ken Froessel
"We found David per the recommendation from our officiant. I can't say enough positive things about our experience having David as the photographer for our wedding. Our wedding was somewhat unique in that we took our party out to the backcountry of Sedona for the ceremony. We had the ceremony in the morning in order to avoid warmer weather later in the day. We appreciated David letting us know beforehand that early morning is not the ideal time for outdoor photos. Everything ended up turning out perfectly! He helped us create some especially fun shots with our group! Our photos our beautiful and David was so professional and easy to work with! David did a fantastic job capturing the special moments of our wedding ceremony as well as the adventures our group had on the Pink Jeep Diamondback Gulch Tour. We would absolutely recommend him!"