Who I Am & What I Offer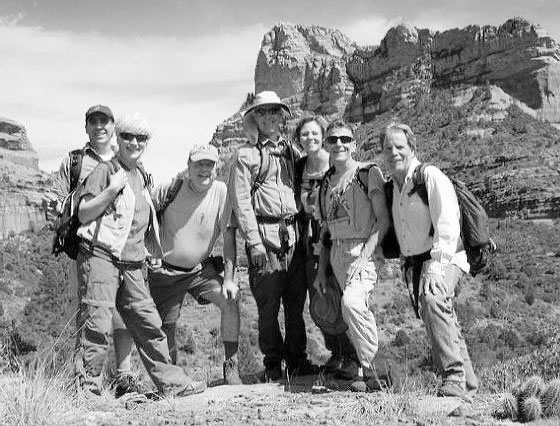 Unlike wedding photographers who come to Sedona from elsewhere, I've lived in Sedona for over 35 years and know the area intimately. I've photographed weddings in all of Sedona's main venues — resorts, churches, chapels, centers, hotels, bed and breakfasts, private homes, and most of all, the breathtaking national forest that surrounds Sedona. My favorite locations are outside on or near the beautiful red rocks of Sedona. When I'm not shooting or editing photos, that's usually where you can find me: climbing rocks, hiking trails, and enjoying the healing waters of Oak Creek (I'm the guy on the far right, out hiking with some friends).
I specialize in small weddings (25 people or less). I focus on small weddings because they tend to be less stressful, more fun, and encourage couples to relax and enjoy each other. And this, in turn, sets the stage for better, more creative photos. This website is a good reflection of the kind of work I do. Click here to see what my couples and families have to say about me.
My prices are simple: $600.00 an hour. I require a $600.00 non-refundable retainer fee to book a date. The retainer fee goes toward the first hour of shooting. If you want me for more than one hour, additional fees are due two weeks before the date of the wedding.
When your photos are finished (in six to eight weeks), you receive two things from me:
1. High-resolution copies of all of your images.
2. A password-protected website that allows you to view and share your wedding photos with family and friends, and, if you want to, purchase professional-quality prints, fine art cards, dazzling canvas and metal prints, and many other products.
I promise 100 images per hour, and typically deliver many more. I carry three cameras, each mounted with different lenses, and touch up all my images using professional photo-enhancing software. This means the images you receive from me will be magnitudes better than the images your family and friends can shoot on consumer cameras and smart phones. Unlike other professional photographers who hire third-party companies to help them edit their images, all of the images I shoot are edited by me.
Next Day Wedding Videos
Looking for something fast, fun, and different? Check out my NEXT DAY Video & Photos page.
Engagement Photos & Family Portraits
I also shoot engagement photos and family portraits at the same rates: $600.00 for one hour.
To Book My Services
To check my availability, you can reach me via email at david.sunfellow@gmail.com. You can also send me a text message or give me a call: (928) 239-4133.
If things work out for me to be your photographer, great! We'll have a wonderful time together.
If I'm not available, or can't meet your particular needs, here's hoping can you find another photographer that leaves you with beautiful memories that last a lifetime! You can find a list of local photographers I recommend posted here. You can also find officiates, wedding planners, and other Sedona-based wedding professionals listed on this page.