Stephanie & Michael
Married at Bell Rock
"Thank you so much for capturing our special day. The photos are incredible! Thanks for a great job!"
…………
The Kelly Family
Photo Session at Bell Rock
"David, our photos are gorgeous! Thank you so much for capturing such a special trip for our crew. It was a fun, quick, lovely experience. We will cherish these pictures for a long time to come! (And know our kids will be showing these to their kids some day!) We will most certainly tell any and all fam and friends headed your way, to connect with you! Thank you again so very, very much!"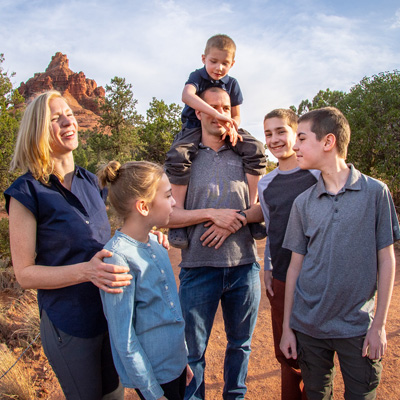 …………
Monica & James
Married at Merry-Go-Round Rock in Sedona, Arizona
"Thank you so much for all of your hard work and dedication to getting us some amazing shots!! We appreciate you so much and will most definitely recommend you highly! Thank you for everything. Best wishes to you!"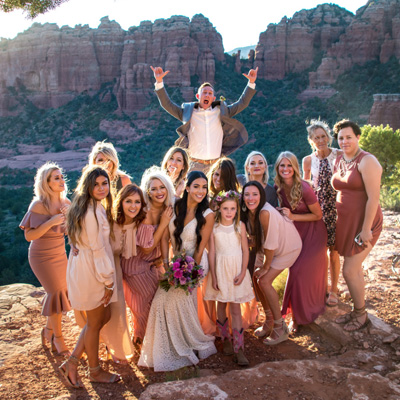 …………
Tara & Kristian
Married at Red Rock Crossing in Sedona in cooperation with Uqualla and Weddings in Sedona
"Thank you so much for these wonderful photographs! We are over the moon with how they all turned out. So happy. Brings back so many feelings from the day. We are still looking them over and over at this point, and we will definitely be getting prints of many of these. Thank you for helping to make our day all that we could have hoped and giving us memories that will last forever."
…………
Kelly & Todd
Married at Red Rock Crossing in Sedona in cooperation with Andrew Murphy of Heart of Sedona Weddings
"We absolutely LOVE the photographs! Such a talent you are to capture the beauty and joy of such a glorious day. We are grateful."
…………
Joyce & Robert
Married at Red Rock Crossing in Sedona
"Hey David! These are fantastic! Thank you. Both Joyce and I received them and have started picking out our favorites. Such a beautiful day and you captured it perfectly. We are just glowing from looking at these, and laughing at some too. Thank you again."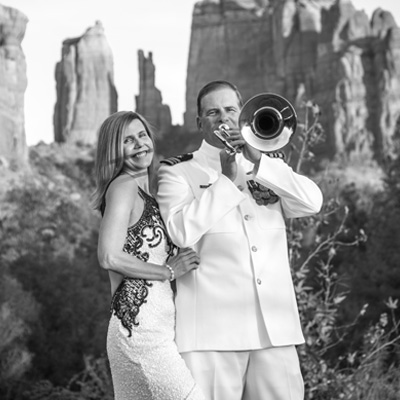 …………
Stephanie & Jimmy
Married at Red Rock Crossing in Sedona
"I just can't get over how beautiful the pictures are. I have been staring at them for HOURS! I really can't thank you enough. The pictures are incredible. Fantastic! Thanks again." 
…………
Ryan & Mark
Married at Enchantment Resort in Sedona
"I cannot say enough about the photos that David took of our daughter's wedding at Enchantment Resort in Sedona. He not only captured the beauty of the area, but the love that came through on the photos was simply amazing! David was professional, on time, and had a way of taking the photos that didn't feel staged. He didn't overthink it and just got in there and took a ton of fantastic pictures. David is very talented and takes pride in his work. You will not be disappointed!"
— Patty Ricker, Mother of the Bride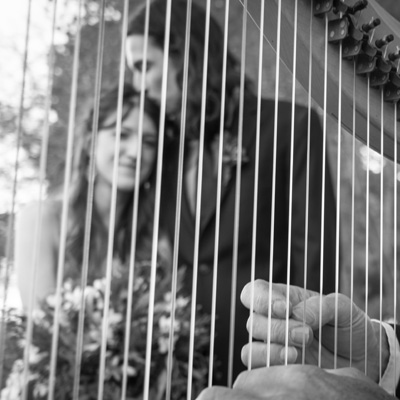 …………
Taylor & Torry
Married at Merry-Go-Round Rock in cooperation with Pink Jeeps and Sedona Destination Weddings
"All I can say is David is an amazing photographer and he truly loves his job. Rain or shine he made us feel so special on our wedding day. David went through pouring rain to get our beautiful pictures. He loved every moment of it. Our day went from rain, to a double rainbow, to stunning views of Sedona. We all had such a great time with David because he is so passionate about capturing each moment. The best day ever thanks to David. We will never forget it!"
………..
Jamie & Craig
Married at Merry-Go-Round Rock in cooperation with Weddings in Sedona
"Wow! Thank you so much. The pictures are absolutely beautiful! I can't stop looking at them. You definitely captured the beauty in our special day. I want to thank you again for being so awesome. Craig and I are usually quite awkward in photos and you made it so much more easier for us. I absolutely LOVE the fisheye effect on the pictures… The lighting is breathtaking!"
………….
Melissa & Eddie
Married at Merry-Go-Round Rock in cooperation with Reverend Ken Froessel
"David, those photos are truly amazing. Thank you for all the hard work and your great talent. We will cherish those images."
…………
Julie & Ben
Married at Merry-Go-Round Rock in cooperation with Andrew Murphy of Heart of Sedona Weddings
"Thank you so much for taking such fantastic photos of our wedding! We really had such a great time hanging off cliffs and playing around on our bikes. You truly have a way of making people comfortable and that is more than we could ever ask for. You helped make our dream wedding come true and we will never forget our 'Wed n' Shred'. Thank you again for capturing our ideas perfectly. You were a joy to work with… Thank you a million!
"Our friends and family could not believe how stunning all of our photos were. One friend said she BLEW UP the like button on Facebook! Another said they looked like photos from a wedding magazine, and lots of comments on BEST wedding photos EVER! They loved it! Thank you for helping us stun our friends, LOL. We will cherish our photos forever!"
………….
Sandy & Ron
Married at Merry-Go-Round Rock in cooperation with Weddings In Sedona
"David was so much fun and his photographs are amazing. My camera-shy husband even had a great time and enjoyed the time we spent with David. We're overwhelmed with how many amazing photos we have to sort through and choose from. You won't be disappointed if you choose David Sunfellow!"
…………
Eve & Anthony
Married at Red Rock Crossing in cooperation with Two Hearts, One Life Weddings
"David Sunfellow did a wonderful job on our wedding pictures. Although we had an elopement in Sedona we were treated as if we were a bride and groom going off to a fantastic gala. He took his time photographing us and did an all around wonderful job. Thank you David. [Our photos] came out great!"
…………
Angela & Wayne
Married at Red Rock Crossing in cooperation with Weddings In Sedona
"Any photographer can take pictures of how someone looks.
You take pictures of how I FELT!
Thank you."
………….
Marie & Leo
Married at Red Rock Crossing in cooperation with Two Hearts, One Life Weddings
"After beginning to plan our long distance wedding, we were in PA getting married in AZ, in a mere 3 months. David was recommended by the minister we found. So I went to his website and took a look at all the beautiful pictures he had taken. Noticing that it seemed David took extra consideration in making the shot. We signed David up for our wedding not even speaking to him once. All of our contact was via email. Love that internet. On our wedding day, David was waiting for us. We had our wedding outside on a beautiful 95 degree day in Sedona. After our introductions, the first thing David said to our party was did everyone bring something to drink? Of course not; who would think of packing a cooler of refreshments (water and Gatorade) for such an event? Immediately David began to take care of us. Luckily there was a vending machine in the park and everyone grabbed bottles of water and Gatorade. David was continuously reminding everyone to drink and kept myself and the groom cool throughout the time he spent with us. David was amazing. He suggested some great shots to us and was more than accommodating. Also, I must mention we only had a party of 12 in attendance. I didn't once get the sense from David since we were such a small party that our photos were any less significant that a traditional sized wedding. Our photos were amazing… I would highly recommend David as a photographer."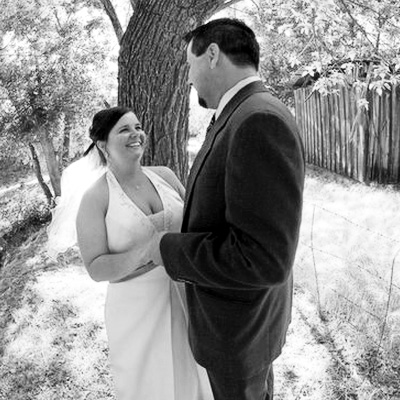 …………
Laurie & Paul – Toronto, Canada
Married at Merry-Go-Round Rock in cooperation with Two Hearts, One Life Weddings
"Laurie and I can't begin to express how thrilled we are with the photos! You truly exceeded our expectations in every way… creating the beautiful, artistic images of our magical wedding day. Being a commercial photographer myself, you can imagine the time I spent online viewing photographers' portfolios and when I came across your web site my search was over. Your energy, passion, and enthusiasm reflects just how much you love doing what you do. Forever Grateful!!"
…………
Andrea & Duane – Phoenix, Arizona
Married at Tlaquepaque in cooperation with Laura Lane
"David was a dream of a photographer. He made my guests feel comfortable. He was entertaining. He just made everyone feel at ease with the entire experience. He captured each important moment with beauty. I would use him again in a heartbeat. Thanks!"
Debby & Timothy
Married at Tlaquepaque in cooperation with Weddings In Sedona
"Hellooooooo David! Thank you. Thank you. Thank you! You've worked magic one more time here.
"I just glanced through our photos before Debby got home and had to stop. I couldn't take it, nor continue alone. They're way too beautiful. I was going to put together a wedding book with an inspired selection and surprise her with it. But now I feel that I have to share them all together … each one is such a treasure. These captured snippets are so amazing. How could I choose alone? I couldn't do it.
"I LOVE what you've done here. I love how you chose the staging, the lighting, how you capture the emotions brilliantly. I love the b/w versions … sometimes even better than the full color ones in some cases. You were wonderful to work with too. Thank you for your kind words, your visibly emotional investment in our experience and your highly visual blessings you've delivered here with your miraculous workmanship on these fabulous, life-time photos.
"God bless you. Godspeed with your business and your good heart always. We wish you a long and wonderful life as well!"
………….
Amy & Brian
Married at Diamondback Gulch in Sedona in cooperation with Pink Jeep Tours and Reverend Ken Froessel
"We found David per the recommendation from our officiant. I can't say enough positive things about our experience having David as the photographer for our wedding. Our wedding was somewhat unique in that we took our party out to the backcountry of Sedona for the ceremony. We had the ceremony in the morning in order to avoid warmer weather later in the day. We appreciated David letting us know beforehand that early morning is not the ideal time for outdoor photos. Everything ended up turning out perfectly! He helped us create some especially fun shots with our group! Our photos our beautiful and David was so professional and easy to work with! David did a fantastic job capturing the special moments of our wedding ceremony as well as the adventures our group had on the Pink Jeep Diamondback Gulch Tour. We would absolutely recommend him!"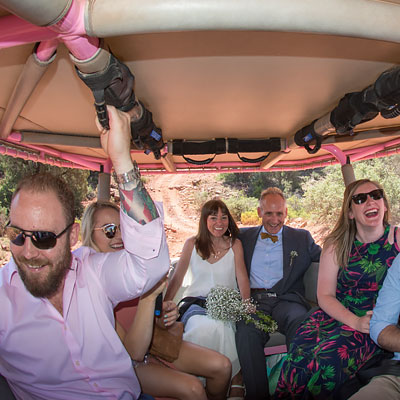 ………….
Katie & Steve
Married at Red Rock Crossing in Sedona in cooperation with Weddings in Sedona
…………
Victoria & Ben – Salt Lake City, Utah
Photos taken at Red Rock Crossing in Sedona
"I highly recommend David Sunfellow! He truly is so talented and has an amazing eye. We eloped to Sedona and were not completely familiar with the location, but David took the time to help me pick a perfect location and helped me with timing so that we had an amazing sunset in the background. He's so nice and easy to work with that taking pictures wasn't an awkward thing. A true photographer not only takes beautiful pictures but also captures who you are and the emotion of the moment, which is a talent not very common. David is a true photographer."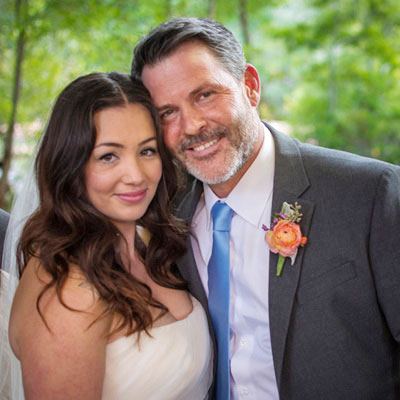 …………
The Pauly Family – Minnetonka, Minnesota 
Photos taken at Red Rock Crossing in Sedona
"We felt very comfortable with David from the time that we met him. We sincerely enjoyed our time with him and it felt like we were with a friend. Our two boys (6 and 9 years old) enjoyed our 'adventure' walk through the park and it was truly the best photo experience we've ever had. David is incredibly efficient — the number of shots he got and also the various settings/locations, yet we never felt rushed. It was very casual and absolutely enjoyable. We had FUN as a family! And the pictures are gorgeous!!!"
…………
Shawna & Martin – Indio, California
Married at Tlaquepaque in cooperation with Heart of Sedona Weddings
"We chose David Sunfellow Photography for several reasons — and we are thrilled with the results. We were first impressed with David through his artistic website and photography background — it is a cut above the rest. Because we were having a destination wedding, we did not have the opportunity to meet David prior to our wedding. However, we spoke with David on the phone several times and we could tell that he genuinely cared about our special day; he took the time to learn about our day-of plans and made suggestions on how to schedule both off-site outdoor photos and indoor ceremony photos. Working with David on our wedding day was awesome! He was creative, fun and made us both feel at ease. David really captured the essence of who we are as a couple — and it showed in our photos. After the wedding David posted our photos on a professional website and we were able to sort and order photos at our leisure. We highly recommend David Sunfellow Photography!"
…………
Christine & Clinton – Sun City, California
Married at Tlaquepaque in cooperation with Weddings In Sedona
"Oh David! We've just finished looking at the pictures and cannot begin to tell you how very pleased we are! They are absolutely stunning! You are awesome. Susan and staff are awesome. And we are convined we could not have made a better choice than we did — to celebrate our marriage in Sedona. Thank you very much!"
…………
Julie & Hank – Bolingbrook, Illinois
Photos at Merry-Go-Round Rock in cooperation with the Sedona Jeep Tour Company; married at the Church of the Red Rocks
"We were extremely impressed with David Sunfellow as our wedding photographer. He was fun, warm and friendly, enjoyable to be around, well prepared, ON TIME, sensitive and creative. We cannot say enough about how wonderful he was. All our guests made wonderful comments about how great he was as well! I would recommend him to ANYONE!"
…………
KaSarah & Robert – Tucson, Arizona
Married at Red Rock Crossing in cooperation with Weddings In Sedona
"David is an excellent photographer! My pictures turned out beautifully, and he is also very nice, and doesn't make you feel at all uncomfortable, he really makes the whole picture taking experience enjoyable!! A++ in my book!"
…………..
Wibke & Will – San Diego, California
Married at Back 'O Beyond, in cooperation with Laura Lane
"Thank you so much for the absolutely gorgeous pictures of our wedding! You have created a beautiful memory for us in pictures that tell the whole story of that magic day. Your enthusiasm was infectious and admirable and made it easy to 'pose' for the photographs. You exceeded our expectations and we can't thank you enough for that. You have a gift — we're glad you shared it with us. With much gratitude and appreciation…"
…………
Lacey & John – Peoria, Arizona
Married at Poco Diablo
"Choosing a photographer is one of the most important elements in planning a wedding. When I was looking for a photographer, I was looking for someone who possessed the talent of capturing natural moments. David Sunfellow truly photographed the personality of the person, not just their face. From grandparents to children, he photographed them in such a beautiful way you have to stare at each one more than just a glance. Not only is he the most amazing photographer, but also truly knows how to work Sedona. He understands the lighting and all the earth tones that surround your wedding. The whole reason I chose Sedona was the scenery, and he definitely incorporates that in every picture. David was very knowledgeable of the people in Sedona as well. I called him several times for wedding advice! I truly appreciate whenever I called I always got a response with a half an hour. Where else do you get that! Thank you David for being such a positive light in my wedding. The emotions I feel are priceless when I look at my wedding pictures. They are my most treasured possessions."
"I would recommend David Sunfellow 100%. He was by far the best, easiest and most reliable person that we delt with in our entire wedding. His photos were wonderful, and everyone that met him felt comfortable and happy that he was a part of our wonderful day." — Mother of the Bride
…………
Tami & Joe – Queen Creek, Arizona
Married at Red Rock Crossing in cooperation with Uqualla (minister); Photos at Red Rock Crossing, Bell Rock, Tlaquepaque; Reception at Joey Bistro's
"David was/is AWESOME!!!!!. He really got the feel for what kind of pictures/poses we would like to have of our wedding and photo album. His experience and expertise in his field was invaluable. The pictures turned out better than we could have imagined, we were 'blown away' by how well he captured our wedding day and our love for each other shined through for all to see. David is #1 in our book. There could have been no other photographer for us. He was down to earth and works well with everyone. We absolutely love David Sunfellow and would recommend him to everyone."
………….
Kerry & Jason – Rugby, Warwickshire, United Kingdom
Married at Back O' Beyond in cooperation with Two Hearts, One Life Weddings
"Thank you so much for posting pictures on the website for us to see them before we got the disc, we were desperately excited to see them! We had such a great day and you were such a special part of that for us. Like most people we hate having our photos taken and you made it so easy for us. The pictures themselves are unbelievably awesome! We are so thrilled with them, and every time I look at them it brings it all back… The rest of our day went well too. The train was fantastic and can thoroughly recommend the caboose for weddings! The food too was amazing! All in all we feel so lucky. There are so few people who truly get what they want from their wedding day, and we are one of those. We would not have changed a bean. Thank you from the bottom of our hearts for your help in creating and capturing our memories. You were the best. And coming from a Brit, that is high praise indeed!!"
…………
Diana & Kurt – Libertyville, Illinois
Married at Tlaquepaque in cooperation with Weddings in Sedona and Maria Grace of Two Hearts One Life Weddings
"We received our [wedding photos] today. I just wanted to tell you how much I/we love them. You did a great job. I can honestly say that this is the first time I have ever really liked all of my pictures. You captured something in us that I haven't seen before. I love that you got some shots of us laughing. We laugh a lot together and it is so great to actually see that on print. We had a great day and such a fun wedding. We now have great pictures to prove it. Thanks for everything. If I ever know of anyone looking for a photographer in Sedona I will give them your name."
…………
Kasey & Chris – Ann Arbor, Michigan
Married at Red Rock Crossing in cooperation with Two Hearts, One Life Weddings
"My husband and I recently eloped in Sedona, Arizona. We live in the Midwest so all of our contact with David took place over email. We found David with the help of our officiant, who often works with David. We checked out his website and saw beautiful pictures, but those pictures are nothing compared to the shots he just sent me. David captured everything I hoped he would capture on the day of our wedding. The photos he took simultaneously capture the beauty of the location, our personalities, and the special moments during the ceremony. His demeanor is both professional and very comforting. My husband and I were nervous as we approached the ceremony site, but were immediately put at ease once we met David. I would definitely suggest a couple use David as their photographer!"
…………
Melissa & Matt – Tempe, Arizona
Married at Red Rock Crossing in cooperation with Weddings In Sedona
"David Sunfellow did a great job with our wedding. He was great at working with our family and got some amazing shots of the ceremony, our families, and the beautiful red rocks of Sedona. He gave us WAY more shots than were strictly included in our package and we were extremely happy with both the variety and the quality. We would definitely recommend him to others planning events."
…………
Alana & Stephen – Tucson, Arizona
Married at Rancho Los Lagos in cooperation with Weddings In Sedona
"David was professional, fun and full of energy. All the guests at our wedding commented on what a great photographer he was…plus everyone loved the pictures. David made my husband and I feel beautiful/handsome and very much at ease. He's awesome!"
…………
Elena & Dmitri – Tempe, Arizona
Married at Red Rock Crossing in cooperation with Reverend Joel Boyd
"David is a wonderful photographer! He managed to show the spectacular setting of Red Rock Crossing, the own cathedral of nature. David caught all shades of the sunset light in very creative ways. All images are superb! They are colorful and crisp, and red rocks glow so beautifully under the dramatic sky! We are also grateful to David for making the ceremony atmosphere so warm and comfortable. We felt very relaxed and natural. We will recommend David to all our friends."
…………..
Peggy & Randal – East Troy, Wisconsin
Married at Bell Rock in cooperation with Two Hearts, One Life Weddings
"We would HIGHLY recommend David Sunfellow. Both of us are very camera shy but David made it relaxed, spontanious, and so much fun that we could not help but smile for the pictures. David was truely unobtrusive to our ceremony — most of the time we did not even know he was taking pictures. He photographed us from ALL possible angles. All of the photos turned out GREAT!!!! Thank You, David."